Lupus Nephritis – Causes, Symptoms, Diagnosis, Classification & Treatment
[ad_1]

SLE is more prevalent in women than men across all age groups(1✔ ✔Trusted Source
Lupus Nephritis
Go to source). It can affect all parts of the body including skin, joints, lungs, kidneys, brain, blood vessels, blood cells and heart. Lupus nephritis increases the morbidity and mortality in SLE and affects nearly 50% of patients with SLE(2✔ ✔Trusted Source
Systematic review of the epidemiology of systemic lupus erythematosus in the Asia-Pacific region: prevalence, incidence, clinical features, and mortality
Go to source). Around 10% of patients with lupus nephritis develop end stage kidney disease(3✔ ✔Trusted Source
Multiethnic lupus cohorts: what have they taught us?
Fever

Skin rash including a butterfly shaped rash across the face

Sensitivity of skin to sunlight

Ulcers in the mouth

Excessive hair fall

Muscle pain and fatigue

Joint swelling or pain

Swelling in the feet, ankles or legs
Advertisement



High blood pressure

Frothy urine

Protein leak in the urine on testing (proteinuria)

Blood in the urine (hematuria)

Low haemoglobin

Low white blood cell count

Low platelet count

Inflammation of the pleura and the pericardium (lining surrounding the lungs and the heart respectively)

Seizures, acute confusion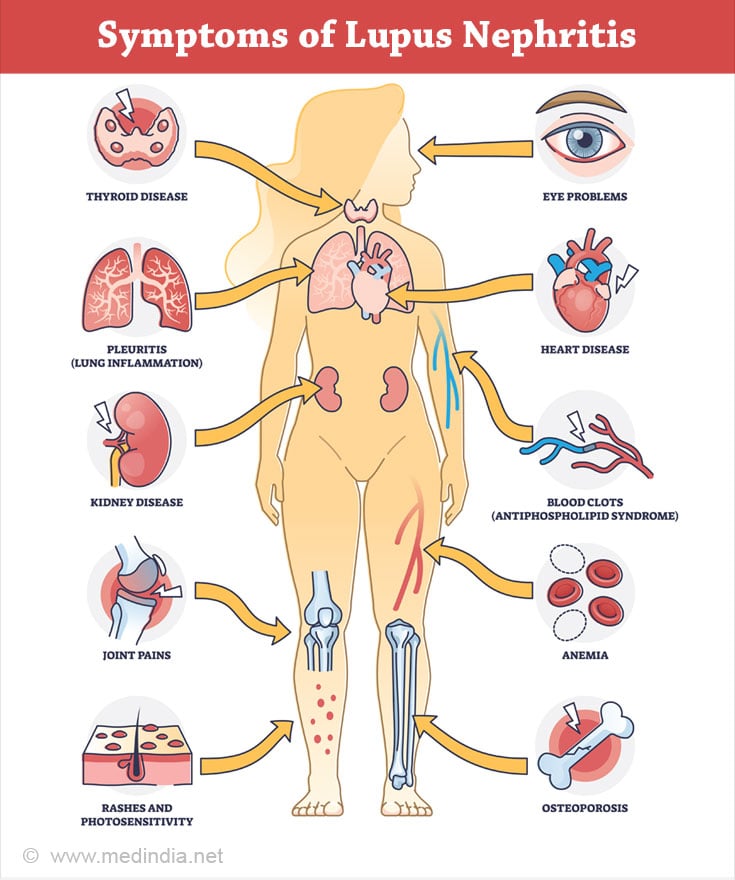 Blood tests:
Low blood counts

Elevated blood urea level

Raised serum creatinine

Raised ANA titre

Raised Anti- ds DNA titre

Low complement levels – C3 and C4
Urine tests: Urine dipstick test is performed by placing a chemically-treated strip (dipstick) in the urine. Excess protein or blood cells in the urine causes a change in the colour of the dipstick. Urine is also analysed under the microscopy for presence of infection and blood cells. Urine protein – creatinine ratio test is done for monitoring the protein leak in urine.
Kidney biopsy: If the blood and urine tests are abnormal and are suggestive of lupus nephritis, kidney biopsy is the next step to confirm the extent of kidney involvement. The biopsy is performed by a nephrologist and it is made pain free using local anaesthesia. A small piece of kidney tissue is obtained with the help of an ultrasound and examined by a pathologist under the microscope.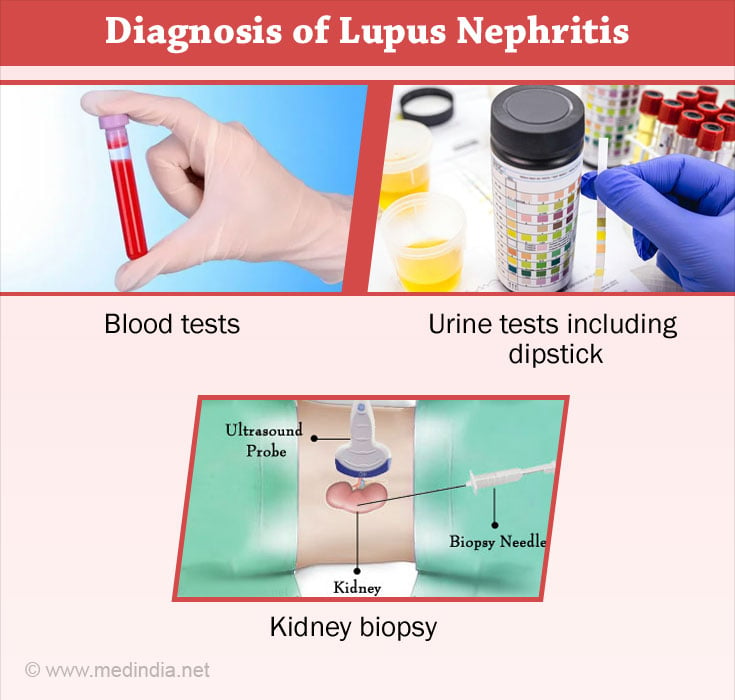 As per the International Society of Nephrology/Renal Pathology Society (ISN/RPS), Lupus Nephritis is classified into 6 classes based on their pathological features(4✔ ✔Trusted Source
Revision of the International Society of Nephrology/Renal Pathology Society classification for lupus nephritis: clarification of definitions, and modified National Institutes of Health activity and chronicity indices
Go to source). Based on the stage of involvement in the kidney biopsy, appropriate treatment plan is strategized.
Class I – In this condition, the renal tissue appears normal under the light microscope, however, immune deposits are observed in the mesangium (the area surrounding and supporting the glomeruli) with an electron or an immunofluorescence microscope. At this stage, patients don't have any symptoms and so they are rarely diagnosed or biopsied.
Class II – There is increase in number of mesangial cells (cells that surround the glomeruli in the kidney), in addition to the immune deposits in the mesangium. Patients are more likely to be asymptomatic.
Advertisement



Class III – Less than 50% of the glomeruli (capillaries that filter the blood inside the kidney) are inflamed with immune cell response. Patients will develop symptoms such as blood and protein leak in the urine, swelling of the legs, high blood pressure and puffiness around the eyes when they wake up in the morning.
Class IV – More than 50% of the glomeruli are affected. In addition to the above symptoms, renal impairment in the form of elevation in serum creatinine and decline in urine output may also be seen.
Class V – This is membranous lupus nephritis, where there is thickening of the glomerular basement membrane with inflammation. Presents clinically with nephrotic range of proteinuria.
Class VI – More than 90% of the glomeruli are scarred. At this stage, kidney impairment is common and may require renal replacement therapy.
It consists of immunosuppressive therapy to suppress and deplete the pathogenic autoantibodies.
Induction immunosuppression consists of steroids, cyclophosphamide or mycophenolate mofetil. The usual treatment period is for 6 months with regular monitoring of blood and urine tests. At the end of 6 months, once the patient has achieved remission (resolution of proteinuria or renal impairment), they are started on maintenance immunosuppression with azathioprine or mycophenolate mofetil for a period of 2-5 years.
Calcineurin inhibitors like tacrolimus are added to steroids and mycophenolate mofetil as part of multi-targeted therapy, in patients with poor response to the usual induction protocols. Rituximab is given for refractory lupus nephritis. Multiple new drugs are under clinical trials for lupus nephritis like belimumab, voclosporin and ravulizumab.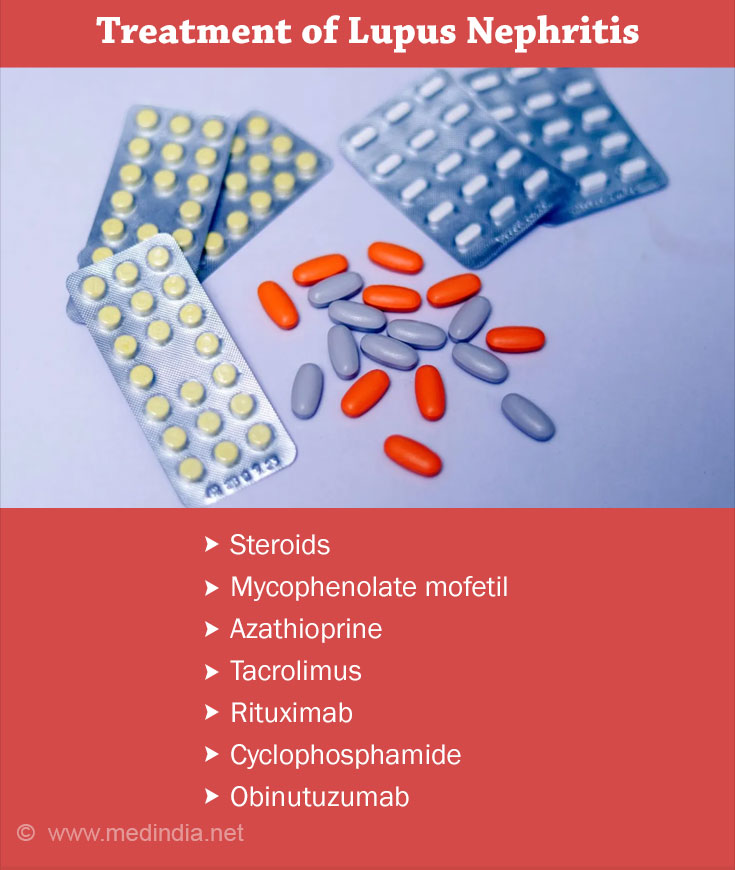 What are the Side Effects of the Medicines?
Side of the above immunosuppressive therapy include increased risk of infection, raise in blood sugars and blood pressure, impairment of fertility, hair loss, injury to the urinary bladder, and increased risk of malignancies. That's why the treatment has to be tailored by a nephrologist based on the patient's age, gender, severity of kidney disease, requirement for preservation of fertility, desire for future pregnancy and response to first-line drugs.
How Long Should I Continue Treatment for Lupus Nephritis?
The average treatment duration is around 5-6 years depending on the response and relapse rate. Good patient compliance with medications and follow – up visits are extremely important to avoid relapses and disease progression.
[ad_2]

Source link